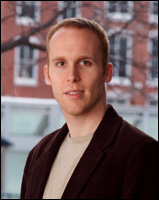 Doug Fath is a serial, award-winning entrepreneur and investor who serves as our Chief Alchemist.
Doug has sold two businesses, developed a multi-million dollar real estate portfolio, and helped individuals
throughout North America create passionate and purposeful wealth.
Wealthy Passion is Doug's latest creation, combining the assets of his real estate investment & development
company, which transforms distressed real estate with his financial educational company that helps others create passionate and purposeful wealth through entrepreneurship, lending and investing.
Doug taught his first class at age 19, purchased his first investment at the age of 20, started his first company at the age of 21 and purchased his first piece of real estate at age 22, before graduating with his bachelor's degree from New York University's Stern School of Business.
Doug's real estate and business endeavors have received national acclaim. He was named to the Empact 100 list of Top Young Entrepreneurs in the United States and was recognized for this award at the White House. He is a winner of the 2004 Bank of America Entrepreneurship Award and has been featured and interviewed by ABC News, NBC News, The NYU Report, the Philadelphia Daily News, and Bloomberg TV.  He is also the author of "Six Figures With Student Housing."